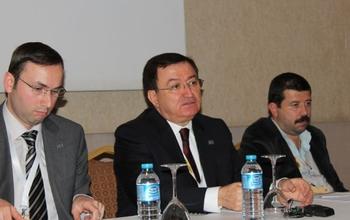 The Culture Working Group, established by the ​joint ​Executive Bureau and Council Meeting of United Cities and Local Governments Middle East and West Asia Section​, ​was ​convened on 19 December 2013 in Konya. Representatives from various municipalities made reference to the difficulties encountered by local authorities in terms of organizing culture-art events. 
It was decided that Gaziantep Metropolitan Municipality would be the President​, and ​the ​association of South-Eastern Anatolian Municipalities and the municipalities of​ Istanbul Metropolitan, Nevşehir and Seferihisar (İzmir) would ​be the co-presidents of the Culture Working Group. 
In the first session, it was decided that the members ​would provide information regarding the ongoing or planned projects on cultural assets facing extinction within their own localities ​up to 20 January 2014, and that the second meeting of the Culture Working Group ​would be held in 14-15 March 2014 in Gaziantep, Turkey, hosted by Gaziantep Metropolitan Municipality.
Secretariat activities of the group shall be executed by Gaziantep Metropolitan Municipality. It is expected that Tehran Municipality will also participate in this meeting and submit its candidacy for co-presidency.
More information: www.uclg-mewa.org