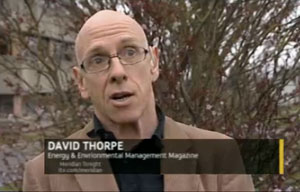 By David Thorpe, David is Special Consultant of Sustainable Cities Collective. 
Representatives of thirty European cities, including Anne Hidalgo (2nd l.), Have pledged to reduce by 40% greenhouse gas by 2030 greenhouse at a meeting on 26 March 2015 at the Paris City Hall.
Mayors of 30 cities in Europe have signed a joint initiative on climate change in which they pledged to undertake to "reduce by at least 40% (their) greenhouse gases by 2030", in line with the European Union's goal, and pledged to collectively purchase clean energy technology to make it more competitive.
The declaration was made last Thursday in Paris under the chairmanship of Rome's mayor Ignazio Marino and Paris mayor Anne Hidalgo and mayors from Athens, Brussels, Bucharest, Geneva, Lisbon, Madrid, Sofia, Stockholm, Warsaw, Vienna, Lyon and Bordeaux were notably present at City Hall. Also present were Foreign Minister Laurent Fabius and European Energy Commissioner Miguel Arias Cañete. 
European capitals and cities together contain over 60 million people. Their mayors together are part of an organisation called the Covenant of Mayors.
The French president, Francois Hollande welcomed the declaration and called on cities to make their contribution in view of the upcoming UN climate talks, COP 21, "acting on the evidence of all good practice" and giving a more ecological orientation to their investments.
The delegates chose to turn up at the conference in Autolib' cars from the fleet of electric car-sharing vehicles that have been in operation for three years in Paris. Each car was adorned with their passenger's respective national colors.
A joint statement from the mayors declared that "because large cities are at the crossroads of these two levels (global and local), they are at the forefront of the fight against climate change" and must therefore put forward the solutions.
Hidalgo added that while cities have little influence over the energy sector they can make a difference by lowering energy consumption, investing in green transport, local energy generation and waste disposal technology.
She reminded delegates that in January almost 100 local elected officials supported the Socialist mayor to impose traffic restrictions for buses and heavy goods vehicles in Paris, similar to the restrictions in London which have resulted in cleaner air. Companies wishing to invest in electric or natural gas vehicles will get grants to do so.
European climate action and energy commissioner Miguel Cañete said that cities could no longer "afford to be energy inefficient," and that, "twenty percent of all residential electricity is used unnecessarily. It heats empty houses, lights empty rooms, and charges unused appliances."
Cañete echoed European Commission President Jean-Claude Juncker's ambitions for the EU to become "the world number one in renewable energies". Cañete said that, for that to happen, European cities would have to hit the target share of "at least 27 percent of renewables by 2030".
The Parisian Mayor also called for all EU member states transfers into law a European directive issued a year ago which encourages European cities to pool resources and collectively purchase energy efficient and renewable energy goods and services. The mayors themselves unveiled plans for joint public procurement of the services.
This type of bulk buying can obtain significant discounts, making the clean energy sector more competitive. Paris and Rome are already cooperating in this regard to purchase electric and hybrid city vehicles. It is estimated that the cities together possess $11 billion in combined purchasing power. 
"Because large cities are at the crossroads of these two levels (global and local), they are at the forefront of the fight against climate change"  declared the mayors.
The day before the meeting, the mayors collectively sent a letter to the European Union arguing that it is time for them all to join forces to fight against climate change, which "requires a closer dialogue between cities with more regular exchange of expertise and best practices," the letter said.
They declared a desire to facilitate on a voluntary basis the coordination of public investment. They also declared that they should work with a global network of cities and local governments to fight against climate change and promote global governance.
At the same time, in Berlin, representatives of European countries were gathering to make the concept of a renewable energy supply palatable to countries all over the world. The opening address was from the German Economic Affairs Minister Sigmar Gabriel, and Foreign Minister Frank-Walter Steinmeier who made a strong defence of the country's energy transition, arguing that renewables "will foster a greener lifestyle, and create prosperity".
Gabriel said that nuclear energy is "the most costly and nonsensical form of power generation". While nuclear energy employed around 30,000 people at its peak, renewables have already created 300,000 jobs to date, increased investment in renewable energy from almost €5 billion in 2000 to €19 billion in 2014 and increased the number of patents registered in this sector five-fold between 2005 and 2013 to 2,000.
Steinmeier underscored that sustainable energy supply is not only "the ideal solution to less emissions" but also can reduce dependence on imports and thereby remove the option of other parties using energy to exert political pressure. "Every country can produce renewables on its own," he said.